Hennessy Machinery Auctions
No live auction is currently running. Please check back later
Auction Dates
Saturday 16 Dec, Ring 1, Online Farm & Plant Machinery Auction, Intake 7 & 8 Dec 9 to 5.30, Viewing 11 - 16th 9 to 5.30, Start 10:00,
Online Farm & Plant Machinery Auction - Viewing 11th to 15th 9 to 5.30 & 16th 8 to 6
Saturday 20 Jan, Ring 1, Online Farm & Plant Machinery Auction, Intake 11 & 12 - 9 to 5.30 , Viewing 15 - 19 Jan 9 to 5.3, Start 10:00,
Online Farm & Plant Machinery Auction - Viewing 15th to 19th Jan 9 to 5.30 & 20th Jan 8 to 6

Please note:
- Live streaming is supported on latest version of Microsoft Edge, Google Chrome, Firefox web browser on desktop computer and mobile devices. If you are having issues, please try one of the supported browsers
- If your mobile is not registered with Hennessy Machinery Auctions, please call Hennessy Machinery Auctions on +353 87 938 1085 to set you up for online bidding.
- If you experience any technical issues or have any feedback for the system, please contact Hennessy Machinery Auctions and also let us know via email at ContactUs@lslauctions.com
Terms & Conditions
Important
Terms and conditions

- All items sold as seen unless otherwise stated by the Auctioneers.
- All bidders are deemed to have satisfied themselves by inspection or otherwise as to the description, size or quantities of any lot.
- Any items that state "plus VAT" on the catalogue will be sold exclusive of VAT. Therefore 23% vat will be added to the hammer price. The VAT docket will be issued to purchaser by Hennessy Auctioneers.
- Commission will apply to the hammer price as follows
1. Fees 10% to €500 plus VAT @ 23%
2. Fees 5% above €500 plus VAT @ 23%
3. Maximum Fees of €1000 plus VAT @ 23% per item 4. All items must be paid for and collected during the following times:
A) Auction day until 6pm
B) Monday to Thursday 9am to 5pm on the week following the auction
In the event of a dispute the auctioneer reserves the right of settlement
All deposits are fully refundable if an item is not purchased. The refund takes approx. 5 to 7 working days after the auction to process.
Please find copy of LSL Terms & Conditions here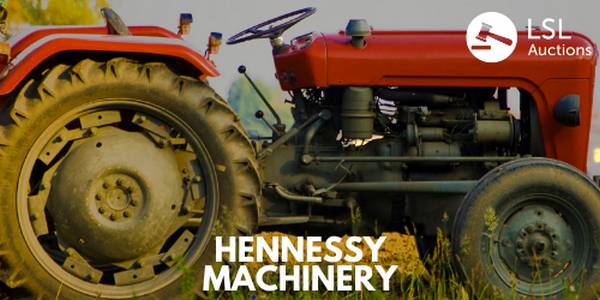 Contact Hennessy Machinery Auctions