Quinn Property
Permanent link to this lot (for sharing and bookmark)
https://www.lslauctions.com/LotDetail-QUINN-1296433
Lot 3, Price 1840000.00, QUINN PROPERTY THORNVILLE HOUSE, BALLYCOGLY, CO. WEXFORD
Property Ref: P5148
Superb C. 132 Acre Holding With Large Period Georgian Style Residence & Attractive Buildings
For Sale By On-Line Auction (In One Or Two Lots) on Monday 15th November At 3pm
LOCATION:
This excellent property is located in south Co Wexford, between the villages of Killinick and Ballycogly, c. 1km from Ballycogly and 3km Killinick close to Ballymore Church. It is 3km off the main Rosslare to Wexford road (N25), 10km south of Wexford town and 10km north of Rosslare Harbour. Wexford town is situated along the M11 Dublin/Rosslare route at the mouth of the River Slaney and is the largest town in Co. Wexford with a population in the region of 20,000. It has a large range of shops, services, amenities and both primary and secondary schools servicing the town and a large surrounding rural hinterland.
DESCRIPTION:
This superb c. 132 acre roadside holding is laid out in a number of large divisions with the land generally being of excellent quality. The residence is a three storey over basement period property with the original two storey section being over 300 years old and the larger three storey section built in the mid 1800's. Originally built by John Lloyd the property is a fine example of typical Georgian architecture that maximises scenic views of the gently rolling countryside. The house has many attractive original features such as cut-granite sills, timber sash windows, carved timber surrounds to door openings and panelled shutters on windows. It has been unoccupied in recent years and is in need of renovation and restoration work.
Accommodation comprises of:
Ground Floor: Ground Floor:
Front Porch: 2.1m x 2.1m
Front Hall: 8.0m x 2.5m Wood floor, coving
Reception Room 1: 7.1m x 4.7m Wood floor, coving, marble fire place
Reception Room 2: 5.5m x 4.5m Wood floor, coving, stove
Wet Room: 2.7m x 2.3m Tiled floor, shower
Toilet: 1.5m x 1.0m W.c., w.h.b.
Kitchen: 5.0m x 5.0m Aga cooker, beamed ceiling, slab floor
Toilet: 2.2m x 1.5m W.c., w.h.b.
Utility: 4.5m x 4.5m Beamed ceiling, slab floor, staircase to first floor
Room 1: 3.6m x 3.0m Beamed ceiling, concrete floor
Room 2: 7.0m x 4.5m Beamed ceiling, brick floor
First Floor
Bedroom 1: 4.5m x 5.0m Coving, open fire, wood floor
Room 1: 4.6m x 4.7m Wood floor
Room 2: 3.0m x 4.0m Wood floor
W.c.: 2.5m x 1.5m Lino floor, w.c., w.h.b.
Second Floor
Landing: 5.0m x 2.5m
Bedroom 2: 4.8m x 5.5m Coving, open fire, wood floor
Jack & Jill Bathroom: 4.8m x 3.5m
W.c. 2.2m x 1.2m Carpet, w.c., w.h.b.
Bedroom 3: 4.7m x 3.5m Coving, wood floor
Balcony: 3.0m x 2.0m
Third Floor
Bedroom 4: 5.0m x 4.5m Open fire, vaulted ceiling
Bedroom 5: 3.7m x 2.3m
Basement
Room 1: 4.5m x 2.5m Slab floor
Room 2: 4.5m x 2.5m Slab floor
Room 3: 4.5m x 4.7m Slab floor
Room 4: 3.6m x 2.5m Slab floor
Room 5: 7.0m x 1.5m Slab floor
Room 6: 7.0m x 1.5m Slab floor
Hall: 5.7m x 2.2m Slab floor
SERVICES AND FEATURES:
Private Well
Septic Tank
Property Extends To: 449.51m²
BER DETAILS:
The property is BER Exempt as this is a listed building with Wexford County Council
OUTSIDE:
There are a number of outbuildings to include:
Stone built shed divided into a number of stables and compartments (30m x 3m)
Partially lofted stone built shed with bell tower divided into a number of stables and compartments (30m x 8m)
Stone build shed incorporating a number of stables (35m x 5.5m)
Stone built shed (25m x 3.8m)
Stone built shed (25m x 3.5m)
Walled in garden.
DIRECTIONS:
From Wexford proceed towards Rosslare, 2km after Drinagh roundabout turn right for Kilmore Quay (R739). Proceed to Ballycogly turning left in the village and after 500m turn left and the property is on the left hand side with QUINN PROPERTY sign.
This Is A Beautiful Period Residence That, With Investment, Will Be Returned To It's Former Glory
A Reminder Of Grander Times
LAND:
The land is laid out in a number of large divisions, all of which are currently in grass, generally free draining soil, ideally suited to tillage or grassland. There are c. 12.3 acres which were planted to forestry over 20 years ago, the majority to Citrus Spruce with a small amount of Ash.
The property will be offered in the following lots:
Lot 1: C. 74.74 Acres with Residence and Farmyard
Lot 2: C. 57.5 Acres and
Lot 3: The Entire
Legal: Helen Doyle, Doyle Solicitors, Wexford Tel: 053 912 3077
Important Info / Terms and Conditions
TERMS & CONDITIONS - PLEASE READ CAREFULLY

• Viewing:
If you wish to view the property, you should contact QUINN PROPERTY on 053 9480000. We will facilitate you and arrange access for you and/or your surveyor.

• Description Of Property:
The particulars contained in our brochure / advertising / social media are issued by QUINN PROPERTY on the understanding that all negotiations are conducted through them. All descriptions, dimensions, etc., included in the particulars, and any statements made by QUINN PROPERTY or our representatives, are made in good faith and are not intended to form a basis for any Contract. Any intending purchaser should not rely on them as statements or representations of fact but should satisfy themselves by inspection or otherwise as to the accuracy of same before committing themselves to a Contract. Any maps, plans or photographs in the brochure shall be indicative only and shall not form part of the Contract.

• Guide Price:
The guide price should not be construed as being the selling price of the property and it is the purchaser's responsibility to decide on how much to bid at the auction.

• Legal Documentation:
Prior to the auction, the solicitor for the vendor will make available the legal documentation in relation to the property, copies of which are available from vendor's solicitor or QUINN PROPERTY. It is important to consult your solicitor in relation to the Contracts / Conditions Of Sale of the property before bidding as you will become legally bound by the said Contract / Conditions Of Sale if you are the highest bidder and the property is knocked down to you.

• Identification:
In order to register, it will be necessary to upload a copy of your passport / driving licence and proof of address, i.e., bank statement, correspondence from a Government agency / source, dated within the last 3 months.

• Registration:
In order to bid at the auction, it will be necessary to register with our office, 053 9480000, at least 2 business days prior to the auction. The auctioneer assumes the bidder is bidding for himself/herself. If the bidder intends to purchase a Lot in a name other than his or her personal name, arrangements must be made with the auctioneers in advance. By registering you are deemed to have accepted the terms and conditions of the auction and authorise us, as agents for the vendor, to sign the completed Contract for Sale on your behalf.

• Reserve Price:
The price agreed between the vendor and the auctioneer at which the property can be sold. In the event of the property not reaching the reserve, the auctioneer will deal exclusively with the highest bidder (for half an hour following the auction) in order to realise a satisfactory sale. If a deal is not concluded, then the auctioneer may deal with the under-bidders and any other interested parties following that period of negotiation.

• Deposit:
A deposit is required in order to bid and this is payable in advance of the auction by online bank transfer. Our bank details will be provided to you at registration. The successful bidder's deposit will become non-refundable as soon as the property is sold and a binding Contract is entered into and the agents are hereby authorised to sign the Contract For Sale on your behalf. The deposit payable on the signing of the Contract is 10% of the purchase price. If there is a shortfall in the deposit furnished by the purchaser prior to the auction, then the purchaser shall be required to lodge the balance of the deposit with the auctioneers within 1 business day of the online auction. If you are not the successful purchaser, your deposit will be returned to you (in full).

• General Conditions:
The highest bidder to be the purchaser, subject to the right of the owner to withdraw the property should the reserve not be met.
The Particulars and Conditions Of Sale may change prior to the auction and it is the sole responsibility of the bidder to make sure they have the latest version.
The auctioneer reserves the right to sell the property prior to auction, withdraw the property from auction, change the order of the Lots, or consolidate the Lots without any notice to any prospective purchaser.

• LSL Online Platform:
Neither QUINN PROPERTY or LSL Online Auctions, their servants or agents shall be responsible in any manner whatsoever, whether in contract law, tort, common law or otherwise for any loss arising in whatever fashion as a result of loss of internet connectivity during the auction process. The bidder accepts that such contact is at the bidder's own risk and in the event that the internet link is not established or breaks down, or if there is any confusion or disruption, then the bidder will not be able to participate in the auction.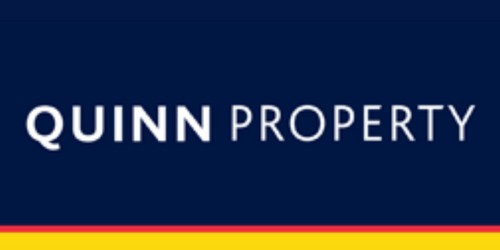 Contact Quinn Property on +353 53 9480000